Neck Pain Treatment in Raleigh?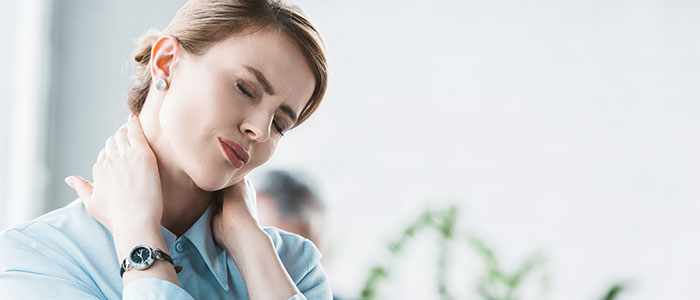 Neck pain is experienced on a wide spectrum. Whether the pain is a minor twinge or something that has made the neck immobile, it affects so much of the range of movement that it's near impossible to stop it from interfering with daily activities. A Raleigh chiropractor uses safe treatment plans to bring the body back to its natural alignment and ease the discomfort of neck problems that can lead to pain elsewhere in the body, headaches, and even muscle weakness over time.
The first step toward finding a solution at Carolina Chirocare and Rehab - Raleigh is to discover the cause of the discomfort.
---
THE SOURCE OF NECK PAIN IN Raleigh
Your neck serves an important purpose. It keeps your head level. It also contains important structures that keep your head in communication with the rest of your body. Your neck contains your spinal column with the small bones of the vertebrae, your spine, and delicate nerves.
The smaller bones in your neck make it possible for your neck to be so mobile. It also makes your neck more vulnerable to injury.
Your neck may be in pain due to an uncomfortable sleeping position, poor posture during the day, or repetitive stress from repeated activities. These repeated activities may seem small, but cause stress on the neck over time. Other causes of pain include trauma to the neck, such as whiplash. This can happen in a car accident or a rough athletic experience. Neck pain can also be caused by abnormalities in the bone structure of the neck, joint pain or other issues, or pulled or strained muscles.
It's important to understand that the vertebrae in your spinal column have a proper and natural alignment. Sometimes, these bones fall out of alignment. This can happen in many of the circumstances mentioned above that cause neck pain, like whiplash or repeated stress activities. When the neck is out of alignment, it's common for the vertebrae to irritate the nerves in the neck, causing pain that can travel throughout the body.
---
A New Approach to Neck Pain Relief
The book could be the solution to your nagging neck or back pain and is absolutely FREE….. supplies are limited.
Top 3 Supplements Proven To Decrease Neck Pain: These 3 supplements have been shown to decrease neck and back pain and may drastically improve your quality of life.
Targeted Home Exercises and Stretches: Which stretches and exercises can you do at home to self-manage your condition?
Is Your Mattress, Pillow, or Work Desk Contributing to Your Spine Pain: Should you change your pillow, mattress, or work station?
OFFICE HOURS
Monday
9:00am - 6:00pm

---
Tuesday
9:00am - 6:00pm
---
Wednesday
9:00am - 6:00pm
---
Thursday
9:00am - 6:00pm
---
Friday
10:00am - 4:00pm
---
Saturday
Closed